I don't watch the news, and I'm not sure Aaron Sorkin does either, but I like what he's been reporting on HBO these days. His offering, an hour-length TV drama, follows the journey of Will McAvoy (Jeff Daniels) and Mackenzie McHale (Emily Mortimer) as they attempt to make personal and journalistic integrity the center of their nightly news show. With a characteristic cast of choleric, charasmatic newscasters, Sorkin tells an idealistic story that, in the end, is less about the news and more about modern-day challenges of integrity. While its politics vacillate between delightful incisiveness and patchy melodrama, its real heart is in its well-portrayed core cast and the optimistic perspectives of its author.
Aaron Sorkin is a TV-writing legend, mostly because of
The West Wing
, which he wrote for four seasons before it was passed on. He also wrote "The Social Network", a film about Mark Zuckerberg and the creation of facebook. His writing is characterized as fast-paced, wordy, and intelligent, and he is so popular among theater and film practitioners that words like "Sorkinesque" exist and are used with frequency. I knew what they meant before I had seen anything the man had written. So that's cool, and of course begs the question of
The Newsroom
's place in his oeuvre and in the newly-exploding television medium. Is this the peaking triumph of his career? Is it a sold-out side dish to his better stuff? Sadly as I have not watched
The West Wing
(I've gotta finish Galactica, which I have been working on for two years) I'll have to tell you some of that later.
The show is really quite fun to watch. Shot in the hustle-and-bustle of a spic-and-span newsroom, the show focuses on the enjoyment of watching people do what they're good at. Jeff Daniels as McAvoy is a bitter hero, an anchor who has suffered for his honesty and for his temper, and who now begins a "mission to civilize" at the behest of his ex-girlfriend, who now is also his executive producer, a clumsy and emotional idealist played by Emily Mortimer. She's a fantastic actress, and though she's a little underwritten, her relationship with Will is believable and a great through-line for the series.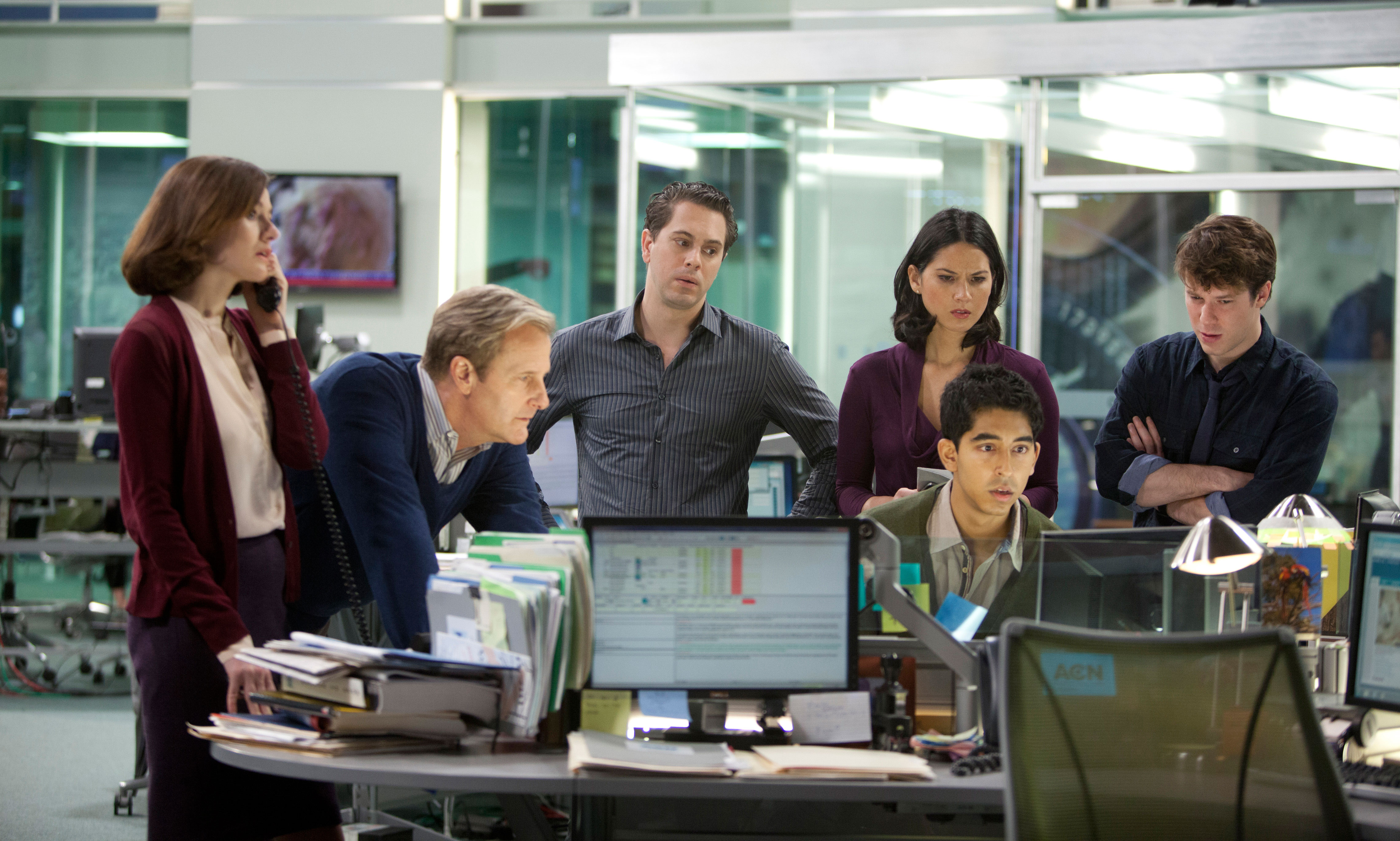 The greatest strength of the Newsroom's cast, however, is its young people. Jim Harper is the new kid on the block but takes charge immediately, and John Gallagher, Jr. is the kind of guy you want to trust as your peer and your boss, devoid of ambition but full of passion. He develops feelings for Maggie, a frenetic, hilarious associate producer played by Alison Pill with exactly the right balance of timidity and courage. Their furtive-glances-but-she's-got-a-boyfriend relationship is what TV is made for, allowing the audience to groan over how good they are for each other and how much tension is building up.
The other characters create a dynamic team: Maggie's temperamental boyfriend Don (Thomas Sadoski) provides inner conflict and impatience, while Neelamani Sampat (Dev Patel) is stereotypically tech-savvy and nerdy but as a fully-fledged human being, emotionally clear-thinking and a faithful friend. Olivia Munn's economics expert Sloan Sabbath provides humor as a total bombshell who thinks more about the debt ceiling than about human feelings. The other supporting characters, while well-written and performed, pale by comparison with the young people, whose aspirations drive the whole show.
The story is patchy, sadly. Most episodes attempt to pair personal ethical problems with news stories, for example an episode about the Tea Party and lying on television mirrors the news story with questions about personal honesty. At best, these episodes can be smoothly built, aerodynamic, and a rush to watch. At worst, they seem heavy-handed and one-sided. (Sorkin's McAvoy is apparently a card-carrying Republican but spends most of the show throwing stones at his brethren, and it gets a little old even to this moderately-minded observer) Still, with the snippy dialogue and strong throughline stories, the show's flaws come across as forgivable.
We live in an era of anti-heroes, and
The Newsroom
can look silly in that light. Maggie and Jim wouldn't last ten minutes in Westeros, and Walter White wouldn't give them a second look. There are no hidden dead bodies, no decapitations, and I was shocked to have finished half the season of this HBO series without any exploitative sexuality and barely any innuendo. Sure, there are F-words aplenty, but they are for emphasis, not cruelty. In terms of content, the existence and relative success of
The Newsroom
is a marvel.
My conclusions about
The Newsroom
are not about politics; they are about people. Sorkin presents and believes in a good world full of good people trying to do their best. Each of the individuals he presents deserve to be loved by people who understand them. They make mistakes that are less related to crime and more to emotional oversight or unkindness. This is a light that I am happy to see myself in.
In
my review
of
Star Trek: Into Darkness
I praised the idea of having a crew, how if we want to change the world, we must work alongside our friends. Sorkin, I think, realizes how much television and stories in general are life-fuel for people, and that messages like this can inspire us. He knows that somewhere watching, there is a young woman who might eventually be president, a young man who might eventually be a news anchor, and a multitude of people who already live in a world where moral decisions are made and moral consequences exist.
The Newsroom
reminds us that integrity is a fight worth fighting.
The fact that cynical critics pan outright optimism does not kill its benefits.
It's A Wonderful Life
was called "Capra-corn" and my father hates it, but it still inspires me to serve other people and live a selfless life when me and my mom watch it on Christmas eve at 1 a.m. I believe that life is a fight worth fighting, and I appreciate art that reminds us of our moral agency in it. And as a character on the show states, if that term is too vague for you, look it up. Then watch
The Newsroom
, then go be a good influence in the world.
Not necessarily in that order.